As 2022 ends, Continental Regional Center would like to highlight the success of CRC and the EB-5 program by reflecting on the impact the regional center has had on economic growth and the families we've helped immigrate to the United States. Since our inception in 2011, sixty-six (66) primary investors and 142 of their dependents have subscribed to a CRC project and entered the USCIS system. Two hundred eight (208) individuals have trusted CRC as part of their immigration journey. Additionally, Continental Regional Center projects have created nine hundred eighty-two (982) jobs, and we look forward to seeing these numbers grow.
EB-5 Program Success
Continental Medical Plaza was fully subscribed with seven (7) investors from Vietnam and nineteen (19) additional dependents. With the help of CRC, Project II created 100 jobs while families immigrated to California, Texas, Virginia, and Washington. All investors were repaid their initial investment, and the project was successfully sold in December 2021.
     Project III, Renaissance Village Rancho Belago, also saw great movement this year. Eleven (11) investors and their twenty-three (23) dependents immigrated from Vietnam, Germany, Nigeria, and China to California, Texas, and Florida. Project III generated two hundred thirty (230) jobs, and after the successful sale of RVRB in April, all investors were repaid their initial investment.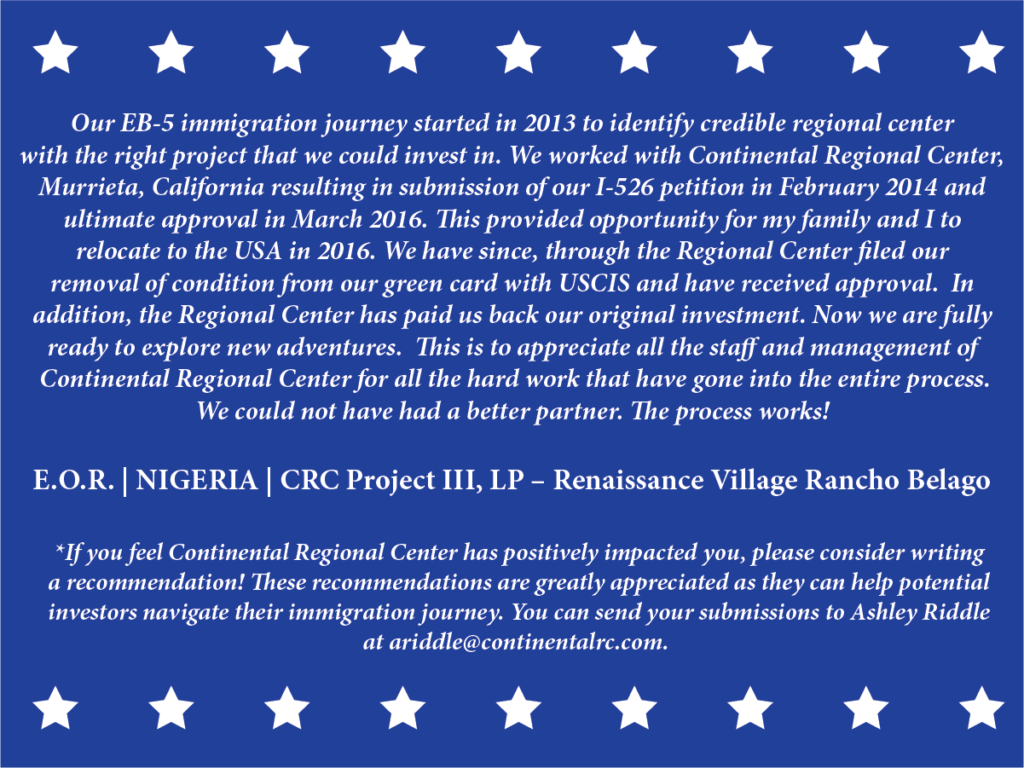 Project IV, Renaissance Village Murrieta, comprised twenty-six (26) investors and forty-six (46) dependents from China, Vietnam, and Nigeria. The project created three hundred sixty-nine (369) jobs, and investors moved to California, Texas, New Jersey, Florida, New York, and Pennsylvania. Project IV was also recently marketed for sale and is expected to close, subject to market conditions, by the end of 2023.
Project V, Continental Villages Phase I, subscribed 22 investors and 54 of their dependents from Belgium and Vietnam. Investors migrated all over the U.S., including California, Tennessee, Texas, Florida, North Carolina, and South Carolina. Project V generated 283 jobs.